lamb tajine with turmeric
Hi everybody,
This is a very simple and delicious dish to impress your loving ones. This is the favorate dish of my husband.
It doesn't require a long time of preparation.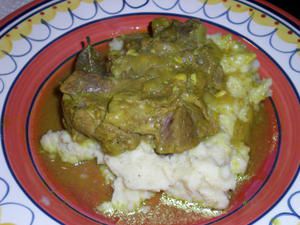 Ingredients for 4 persons:

600 g of lamb
1 onion
2 garlic cloves
1 tsp of turmeric
1 tbsp of olive oil
2 bay leaves fresor dried
salt and pepper

Preparation

In a medium saucepan saute onion and meat. Add garlic cloves diced. Add water untill you cover the meat.
Add the bay leaves and the turmeric. Cover and cook for 1h30.
Server with mashed potatoes. Heaven. Enjoy!