This is a very delicious and healthy mufffin that you can enjoy in the morning or as a snack.
I used white whole wheat flour because it tastes good and it is whole grain.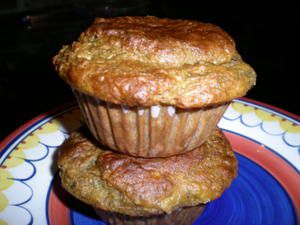 Ingredients for 12 muffins

1 cup and a half of whole grain flour and 1/2 cup of wheat bran. You can substitute 1/2 cup of bran with flour
1/2 cup of brown sugar
1 tbsp of baking powder
4 mashed bananas
3/4 cup of milk
1/2 cup of plain yogourt

1 tbsp of vanilla extract
1/4 cup of canola oil
1/2 cup of chocolate chips
some cinnamon
pinch of nutmeg
Preparation

Preheat the oven to 375°F
In a bowl mix the dry ingredients : flour,wheat bran, sugar, baking powder and spices.
In another bowl mix the bananas, milk, yogourt, vanilla and oil.
Mix the wet and the dry ingredients.
Grease the muffin pans. Pour the mixture into the muffin pan.
Cook for 20-25 minutes at 375°F.

Enjoy this whole grain muffin.