As a faithful Tunisian my favorite meat is lamb. This is a very delicious and healthy receipe to enjoy during this cold winter. Youcan see that it is still hot in the picture yummy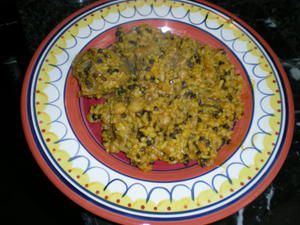 Ingredients for 4 persons
600 g of lamb meat
2 cups of wild rice
2 tbsp of olive oil
2 garlic cloves minced
1 tbsp of tomato paste
2 bay leaves fresh or dried
1 tsp 1tsp of turmeric
2 tsp of ground red pepper or paprika
1/2 can of chickpeas

Peparation

In a saucepot sauté onion and meat with olive oil. Add the garlic , bay leaves ans 1/4 cup of water.

Add 2 cups of rice, 4 cups of water, tomate paste, turmeric, chili powder.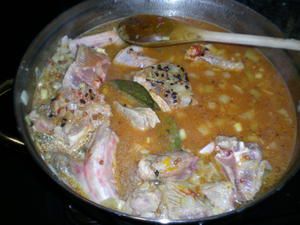 Cover and cook for for 1h20. Make sure to check for time to time and add water. Don't be afraid of adding water.
It is gonna be absorbed buy the rice. Season to taste.
Serve immediately. Enjoy!!!