When I overstuff myself with food and deserts in the weekends, I make soupsfor dinner on Monday sand Tuesdays. This leek soup is delicious, creamy, filling and light.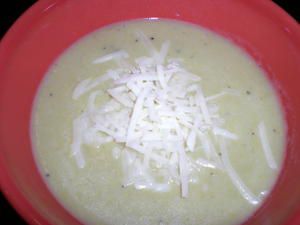 Ingredients


6 white and light green of leeks (500g)
1 big potatoes or 2 small
3 scallions diced
20 g of butter
1 tbsp of olive oil
1/4 cup of cream or more ( I use fat free half and half)
5 cups of reduced sodium chicken broth
salt and pepper

Preparation
in a saucepot saute scallions with butter and oil. Cut the white and light green of the leeks and throw the green part.
Add the whites of the leeks and the potatoe. Add the chiken broth. Cook for 45 minutes uncovered.
In a blender, puree the soup. Add the cream. Season to taste. Serve with some cheese. Enjoy!!!!