Hi Audrey,
These are the delicious biscuits you had last Saturday. I'm glad you enjoyed them.
It is actually very easy to make.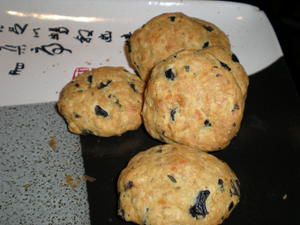 Ingredients:

60 g of butter at room temperature
150 g of white whole wheat flour
1 tsp of baking powder
3 tbsp of milk
100 g of back diced olives
2 handfull of capers
60 g of parmesan cheese
some salt and pepper
Preparation

Preheat the oven to 400 F
In a bowl put the flour, cut the butter into pieces and add it to the flour. Add some salt and pepper..
Mix everything with your hands. Add the olives, capers and cheese. Add the milk. Again mix everything with your hand.
Form the biscuits with your hands and bake them untill they look golden.