This is a very easy treat to serve as an appetizer or to eat with a soup or salads on weeknights.
Simple, easy, fast and delicious.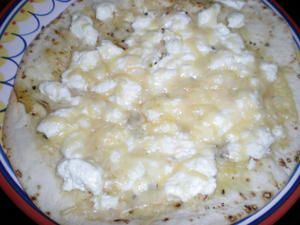 You will need:
1 tortilla
1 tsp of olive oil
1 garlic clove
40 g goat cheese
20 g of parmesan cheese
dried oregano and dried basil
Pour olive oil over the tortilla. Grade the garlic over the bread. Put the goat cheese and then the parmesan.
You don't have to follow the quantities of cheese. Put as much as you can and enjoy!!!!