Quiche poireaux et epinards
Leek and spinach tart

This is a very delicious french quiche that you can enjoy with or without the pie crust.
For daily basis I make it without the pie crust to spare extra calories.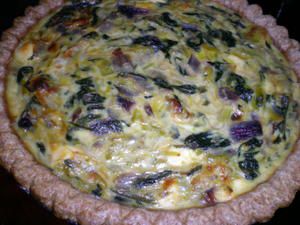 You will need
1 whole wheat pie crust ( from Whole Food)
2 onions
3 leek ( white and green parts only)
180 g of baby spinachs
100 g of light laughing cow cheese ( vache qui rit) cut into small pieces
1/2 cup of graded parmesan cheese
1 cup of cream ( I used fat free half and half)
2 eggs
2 tbsp of olive oil
Preheat the oven to 375 F. Cook the crust for 15 min.
Cut the onions, leeks then saute them with the olive oil. When the onions look tender, add the spinach.
Cook for about 10 min. ( untill the water from the spinach is evaporated)
In a bowl, put the cooked vegetables. Add the cream, cheese and the eggs. Mix very well.
Pour this mixture into the baked crust and bake it for 35 min.