Coconut Flan

I made ths very very delicious Coconut Flan tonight. It is easy and delicious.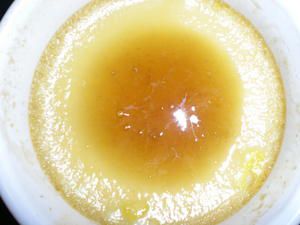 1/4 cup sugar
1/4 cup water
1 cup of canned coconut milk
1 cup of milk
1/4 cup sugar
4 eggs
1 tbsp of vanilla extract

In a small saucepan, mix the sugar and the water and cook over low heat until
you obtain a brown color.
Pour the caramel into the custard cups. Make sure to cover all the surfaces with caramel.
In a saucepan, put the coconut milk and the milk. Cook over low heat for 10 min.
Stir the milk from time to time.
Whisk the eggs and vanilla in a bowl. Add the milk mixture and stir well.
Pour the mixture into custard cups.
Place the custard cups in a baking pan. Pour water into the pan until custard cups are
sitting in a 1 to 1.5 inch of water (bain marie)
Bake for 30 min at 375 F.