Quiche zucchini and blue cheese
T
hank you everybody for coming yesterday for the party.
We had such a great time. This is the
receipe of the tart that disappeared in few seconds. Thank you Rose for the comment about
the spinach quiche.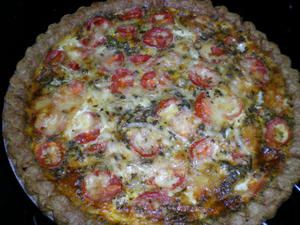 Ingredients

:

1

pie crust
1 onion
1 tbsp of olive oil
1 zucchini
3 handful of cherry tomatoes or more
100 g of blue cheese
1/2 cup of graded parmesan cheese
1 cup of fat free half and half or regular half and half

2 eggs
1 tsp of dried oregano
1 tsp od dried basil
2 tsp of paprika
Important note: You can
use milk instead of half and half . You have to use 20 cl of milk and 4 eggs.

Preparation:

Preheat the over to 375 F. Bake the crust for 15 to 20 minutes.
Saute the onion and he zucchini with the olive oil. Pour this mixture into the baked crust. Cut the Blue into
small pieces and put it all over the zucchini mixture. Cut the tomatoes in halves and put them over the blue
cheese.
In a bowl, beat the cream, eggs, parmesan, spices and pour them into the crust.
Bake for 35 to 40 minutes.

Enjoy!!! Let me know if you like it.