This is a delicious, very healthy and very light cake. I found it in Eryn blog. I just love it.
My mom doesn't like cakes and she liked too.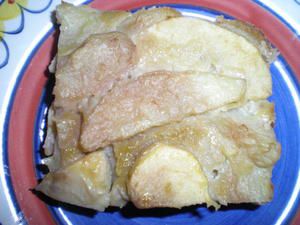 Ingredients:

3 pears
3 apples
2 eggs
70 g of flour
50 g of sugar
2 tsp of vanilla extract
10 cl of milk
20 g of melted butter

Preparation:

Peel the pears and the apples and slice them into small pieces.
In a bowl, whisk the eggs and the sugar. Add the vanilla extract, the melted butter, the milk and whisk again.
Incorporate tthe flour. Add the fruits into the bowl and mix very well.
Grease a baking pan and pour some flour. Pour the mixture into the baking pan.
Bake for 35 minutes. Let it cool down and serve it.