This is a very delicious appetizer. As Tunisian I eat a lot of Tuna and I incorporate it in a lot of my receipes.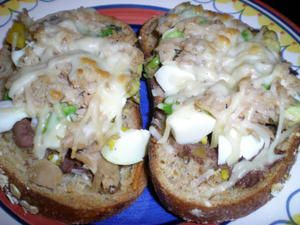 4 slices of whole wheat bread
4 tsp of olive tapenade
1 avocado
1 egg boiled
½ can of tuna
4 handfuls of parmesan cheese or other cheese
Boil the egg in the water for 5 minutes or more
Spread each piece of bread with olive tapenade. Cut the egg into small pieces and add it over the tapenande. Cut the avocado into cubes and add it too. Add the tuna. Put the cheese over and toast into the oven until the cheese melt.