This is a traditionnel French soup to which I added my personal touch.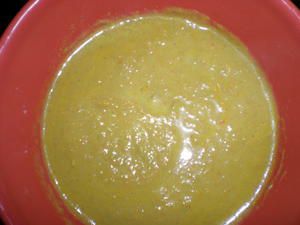 All you need is:
250 g of green peas
250 g of carrots
150 g of celery
1 tsp of curry
2 tsp of paprika
½ cup of milk
6 cups of chicken broth
In a saucepan cook the vegetables with chicken broth for 40 minutes or until the vegetables looks very tender. Let cool down and blend the soup in the blender.
Put the mixture again in the saucepan, heat it and add the milk. Finally add the spices stir
And serve.