I love lentils and I make different kind of lentils soups. This is one of my favorites.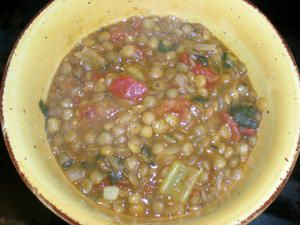 You will need:
250 g of lentils
1 can (14.5 oz) of diced tomatoes
4 cups of vegetable broth or chicken broth
1 tbsp of olive oil
1 onion
2 garlic cloves minced
3 sticks of celery diced
2 bay leaves
2 tbsp of diced cilantro
1 tsp of dried oregano
1 tsp of dried basil
In a saucepan, cook the lentils with broth for 30 minutes or according the package
Meanwhile, in another saucepan sauté onion, celery, and garlic with the oil. Add, the diced tomatoes and the spices (bay leaves, dried oregano, dried basil). Let simmer for 15 minutes. When the lentils are done pour the lentils and the broth over the tomatoes mixture. Let simmer for few minutes. At the end, add the cilantro and serve. Enjoy!!!