This is one of my mother recipes. It is absolutely delicious and easy to make.
Try it you'll not be disappointed. I used Parmesan and Gouda cheese but you
can use whatever you want.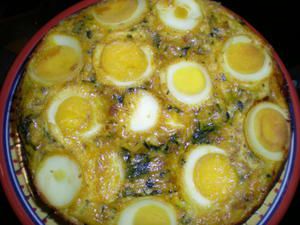 You will need:
250g (1/2 pound) of minced meat
1 tbsp and 1 tsp of oil
5 eggs
1 hard-boiled egg
170 g of baby spinach
1 cup of ricotta
3 handfuls of Parmesan cheese
2 handful of Gouda cheese
½ tsp of turmeric
2 tsp of tomato paste
Salt and pepper
Preheat the oven to 375 F.
Season the meat with salt, pepper and turmeric.
Sauté the meat and the tomato paste in 1 tbsp of olive oil.
Add ¼ cup of water and cook it (5 to 10 minutes).
In another pan sauté the spinach until the water from it evaporates.
In a bowl, whisk the ricotta with the eggs; add the spinach meat and other cheese and stir well.
Grease a baking pan and pour the strata mixture into it. Cut the hard-boiled egg and put it on the top.
Cook for 35 minutes or more.
ENJOY!!!!