This is delicious tajine. I guarantee that even those who don't like spinach will enjoy this dish.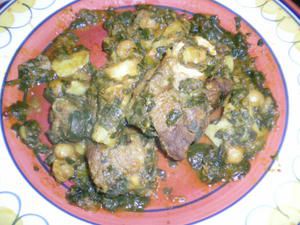 You will need:
600 g of lamb
1 onion
2 garlic cloves diced
1 tsp of turmeric
2 tsp of grounded red pepper or paprika
½ tsp of red pepper flakes
2 tbsp of olive oil
1 tbsp of tomato paste
1 package (10 oz) of frozen spinach
½ can of garbanzo beans
4 potatoes
salt and pepper

Preparation

In a medium saucepan sauté onion, meat (seasoned with salt and pepper) with olive oil. Add garlic cloves diced and sauté again. Add water until the meat is covered. Add the spices and tomato paste. Cover and cook for 40 minutes. Add potatoes and cook again for 20 minutes or until the meat is really tender. Add the frozen spinach and the garbanzo beans and cook for 15 minutes.

Enjoy with some fresh bread!!!