I found this recipe in my French " recettes basiques " of Hachette. I added some spices paprika, dried oregano, bay leaves, red flakes and chopped Persil in the end. It sound a little too much but I don't like bland food.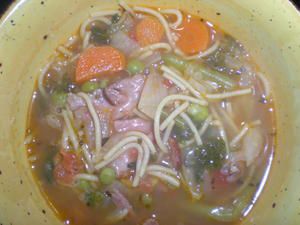 You will need:
15 g of butter
3 tbsp of olive oil
2 garlic gloves diced
4 oz of turkey bacon
1 onion
1 celery stalk diced
2 carrots diced
1 can (14.5 0z) (500 g) of diced tomatoes
5 cups of chicken broth
2 cups of green cabbage
1 cup of diced French green beans
3 tbsp of green peas
50 g of pasta cutted into 3 pieces
Spices: dried oregano, 1 tsp of paprika, 1 bay leaves and ¼ tsp of red flakes
3 tbsp of chopped Persil


Preparation:
Heat the chicken broth and the spices. Cover and cook for 20 minutes.
Add the green cabbage, the French beans and the green peas. Stir and cover. Let it simmer again for 20 minutes. Add the chopped pasta and cook again for 8 minutes.e oil and butter and sauté the turkey bacon for 3 to 4 minutes. Them remove them and reserve them for later. Them sauté the onion, the celery, and carrots and stir well each time you add something. Cover and cook for 8 to 10 minutes until vegetables are tender.
Add the diced tomatoes,
Add the bacon turkey and the chopped persil.