I love mussels. This dish is perfect with fries. It is easy fast and a must for seafood lovers.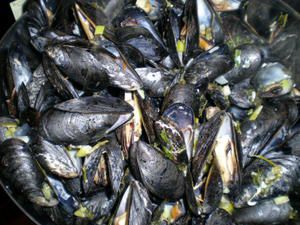 You will need:
4 pounds of mussels
1 cup of dry white wine
15 g of butter
1 tbsp of olive oil
3 tbsp of chopped scallions
3 tbsp of chopped parsley
Wash the mussels.
In a big saucepan sauté the scallions and parsley with butter and oil. Add the wine and bring to boil.
Pour in the mussels and cover. Cook for 15 minutes and stir from time to time.
When all the mussels are opened, it means they are ready. Throw the unopened mussels.
Serve with fries!!!!!