Yesterday I tried this delicious recipe (''Starry Scones'') in the November/December 2008. It is a delicious for breakfast for exemple.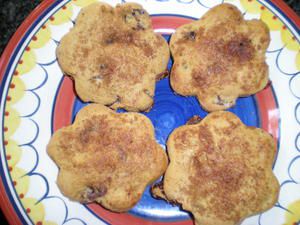 Ingredients:
4 tbsp of sugar
1/2 tsp of cinnamon
1/4 cup of fat free sour cream ( I replaced with fat free Half and Half)
1 tbsp of grated orange zest
1/4 cup of orange juice
1 and 1/4 cup of flour ( I usd whole White wheat flour)
1/2 cup of dried cranberries
1 and 1/2 tsp of baking powder
1/2 tsp of salt
3 tbsp of butter
2 tsp of fat free milk

Preperation:
1. Preheat over to 425 °F. Line a larking baking sheet with parchement paper.
2. Combine 1 tbsp of the sugar and the cinnamon. Mix the the half and half, orange zest and
juice in another small bowl.
3. Combine the flour, the 3 tbsp of sugar, the cranberrie, baking powder, and salt in a medium bowl.
Add the butter cut into smal pieces. Add the half and half mixture, stirring just untill the flour mixture is moistened.
4. Gather the dough into a ball and place on a lightly floured surface. With a floured rolling pin, roll the dough to 1//2 inch thickness. Cut the scones with a cookie cutter, dipping the cutter into flour between cuts. Place the scones on the baking sheet. Brush with the milk and sprinkle evenly with the cinnamon and sugar. Bake untill golden, 10-12 minutes. Cool completely on a rack. You can do 16 scones.

Per serving 2 Scones: 3 points= 152 cal.