I did this recipe for ''mon chéri'' for the Saint Valentin day. I found it in the book '' dessert of cooking light''. It is delicious and light at the same time. You'll love it.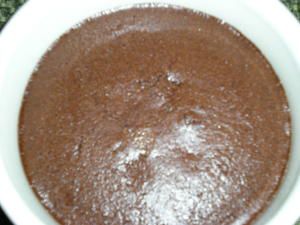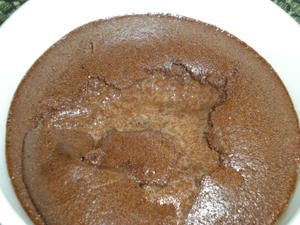 You'll need:
6 tbsp of sugar
1 1/2 tbsp of butter
1 ounce (40 g) of dark chocolate
2 tbsp of unsweetned cocoa
2 tbsp of flour
1/8 tsp of salt
1/2 cup of milk
3 egg whites

1. Coat 4 rameking with cooking spray.
2. Combine 3 tbsp of sugar, butter and chocolate in a small saucepan. Cook over low heat
untill melted. Add cocoa, flour and salt, stirring with a wisk. Gradualy stir in milk, ae nd cook over medium heat untill mixture thicken (3 min). Remove from heat and cool.
3. Beat eggs whites and 3 tbsp of sugar with a mixer.
4. Add the egg mixture to the chocolate mixture.
5. Spoon into the prepared ramekins.
6. Place the ramekins in a baking pan. Pour water into the pan until ramekins are
sitting in a 1 to 1.5 inch of water (bain marie).
Bake for 30 min at 375 F.