Provencal Mackarel

This is a very delicious way of cooking fish. Try it and you'll not be disappointed!!!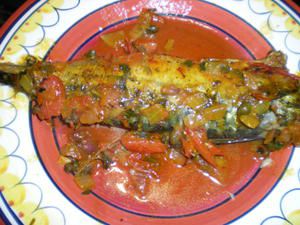 You will need:

3 medium Mackarel
1 onion diced
2 tbsp of olive oil
2 tomatoes diced
1 tbsp of tomatoe paste
2 tbsp of capers
2 spring of fresh thyme
1 bay leaf
4 tbsp of chopped parsely
1/4 cup of dry white wine
3/4 cup of water
pinch of safron

Preheat the oven to 375°F. Sauté the onion in the oil untill soft not browned. Toss in tomatoes
and cook for 2 more minutes. Add the wine,the tomatoe paste, capers, the water, 2 tbsp of parsely
and spices (thyme, bay leaf, saffron). Cook for 5 min. Set aside.
Place the fish in a baking dish and sprinkle with salt and pepper.Pour the sauce over the fish like
in the picture below. Cook for 30 minutes. Srinkle the remaining parsely over and serve!!!