Kathy's pasta with shrimps
This is a great pasta dish from my friend and excellent cook Kathy. When I first ate it I was so amazed.
After begging, she gave me the recipe. I first made this dish for Achraf. Soon after he proposed

.
Now I make this dish everytime I want to impress my guest. Try it you'll see.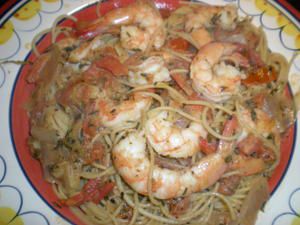 You will need:

1/4 cup of olive
2 onions diced
3 garlic cloves diced
5 tomatoes diced
1 pound of shrimp
a lot of fresh thyme (6 sprigs or more)
1 1/2 tbsp of cumin
1 tbsp or more of paprika
2 tsp of italian seasoning
1/2 cup of half and half or heavy cream
1 package of pasta
salt and pepper

Sauté the onions in olive oil. Add the garlic, the diced tomatoes and 1 cup of water and cook 10 minutes. Add the spices (cumin, paprika, italian seasoning and thyme) salt and pepper. Add the
shrimps and cook untill the they are done. Add the cream and let simmer for 2 minutes. Taste and
correct the seasoning.
Cook the pasta according to the package instructions.
Pour the cooked pasta into the sauce and let simmer under low heat for 5 minutes.
Serve and sprinkle some cheese over it.