Brown Madeleine

My friend Lara gave me this recipe. When she made it I was amazed because it was the best madeleine
I've ever has. These madeleine Have a secret and you''ll discover it later!!!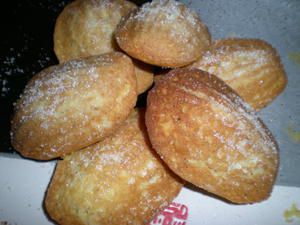 1/2 cup (115 g) of unsalted butter
2 eggs
1/2 cup of sugar
1 tsp of grated lemon zest ( 1 lemon)

pinch of salt
1/4 tsp of lemon juice
1/4 tsp of vanillia extract
1 tsp of baking powder
3/4 cup of sifted flower (I used all purpose flour)
In a small saucepan, melt butter untill it is brown and has a nuttey aroma (This is the secret). let it cool a little bit
In a bowl, mix the eggs, salt, sugar and the melted butter. The mixture should look thick and ribbony.
Add lemon zest and vanilla extract. Fold in flour and baking powder. Mix again.
Butter madeleine molds and dust with flour. Spoon in the batter.

Bake for 10 minutes or less at 350 F. I you want, sift with sugar. Enjoy!!!