This is another tasty lentils soup perfect for cold weather.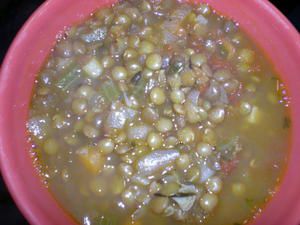 ½ lb of lentils
6 cups of chicken broth
2 tbsp of olive oil
1 onion chopped
2-celery stalk diced
2 carrots diced
3 tomatoes diced
2 sprigs of thyme
2 sprigs of rosemary
2 tsp of cumin
1 bay leaf
In a saucepan, cook the lentils with 4 cups of chicken broth for 30 minutes or more.
In another saucepan, sauté the onion, carrots, and celery. Add the tomatoes and 2 cups of chicken broth. Add the spices (thyme, rosemary, bay leaf, cumin). Cook for 20 minutes.
Pour over the lentils and their broth.