This is again one of my mother recipes. It is simply delicious. You can have it for brunch or for dinner with a salad.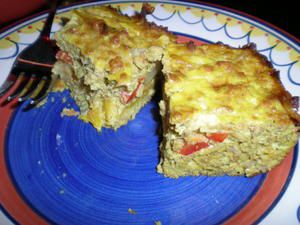 250 g of minced meat (you can replace meat with chiken)
1 red pepper and 1 yellow pepper
4 eggs
4 egg whites
80 g of laughing cow cheese (vache qui rit) cut into small cubes
3 handful of Parmesan cheese
2 handfuls of fried potatoes (you can remove this ingredient if you want)
1 tsp of turmeric (curcuma in French)
1 tbsp of olive oil
Salt and pepper
Preheat the over to 400 F and roast the peppers for 20 minutes
Season the meat and spice it with the turmeric. Sauté it with the olive oil and add ¼ cup of water to prevent it from sticking.
When the peppers are done. Put them in a plastic bag and let them cool a little bit.
Remove the skin and them into slices.
In a big bowl, mix the cooked meat, the slices of pepper, the eggs and egg whites, the cheese, stirring well.
Bake in the over for 35 minutes.