This is a delicious and very very easy way to prepare fish. You can never go wrong.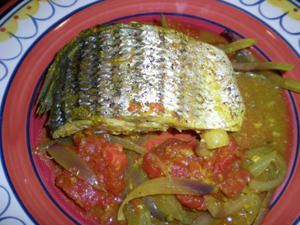 You will need:
1 big rockfish
1 onion diced
2 tomatoes diced
1 tsp of turmeric (curcuma)
11/2 tbsp of cumin
4 garlic gloves grated
1 tbsp of olive oil
Salt and peper
Preheat the over to 400 F
Season the fish with salt and pepper. In a small bowl, mix the cumin, the turmeric, the grated garlic and ¼ cup of water. Spread this mixture around the fish like in the picture below and put them in the baking pan. Add the tomatoes and onions. (the original recipe comes with potatoes)
Drizzle the olive oil over the fish. Add one cup of water. Cook for 25 to 30 minutes.