Chicken Cacciatore with Cremini Mushrooms
I found this recipe in February issue magasine "body + soul" . The recipe is cooked in a slow cooker.
Since I don't have one, I modified the recipe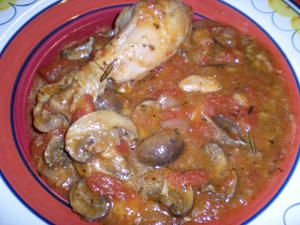 For 6 persons you will need:

6 chicken brest or chicken thigh
8 ounces of mushrooms, quatered
1 can (28 ounces) whole peeled tomatoes in juice, drained, and broken up
2 tbsp of flour
1/4 cup dry white wine
1 celery stalk thinly sliced
1 small onion, halved and thinly sliced
2 sprig of fresh rosemary
dried oregano and basil
1 tbsp of olive oil

I added bay leaf and dried oregano to the recipe

1. In a sauce pan, Saute the chicken, the onion and celery in olive oil. Add the tomatoes, mushrooms, wine,
rosemary, bay leaf, dried oregano and basil.
Cook everything for 30 minutes. Add the flour to thicken the sauce and let it simmer for 10 min at low heat.