This is a very famous dish that you can find in Pizza places in Tunisia. There is nothing easier then making your own pizza dough at home and you can even making it whole grain.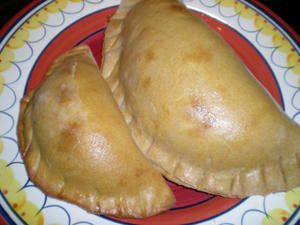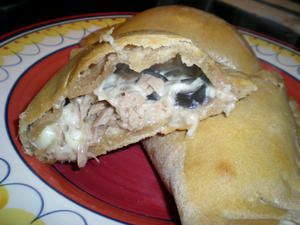 You will need:
2 1/3 cup of whole white flour
1 package of active yeast
1 cup of warm water
2 tbsp of olive oil
½ tsp of salt
1 can of yellowfin tuna in olive oil. (This is the tuna we use in Tunisia; you can find it in Whole Food or Traeder Joe)
As much cheese as you want (I used mozzarella and grated parmsean
Preheat the oven to 400 F.
Dissolve the yeast in warm water and let it stand for 5 to 10 minutes.
Then pour this mixture over the flour. Add the olive oil and salt. Work the dough with you hand and let it rest for 1 h 30. Gather the dough into a ball and place on a lightly floured surface. With a floured rolling pin, roll the dough until it is thin enough. Cut circles using a medium plae and a knife. Put the cheese and the tuna in the middle of each pizza. Give an egg wash to the edges of the pizza. Fold over, and press the edges together with a fork to seal. Bake for 20 minutes.