I always go to Eryn Blog to see what new desert she make. I really like the recipe this light and delicious cookies. Even Achraf who is against light stuff loved these. It perfect for a healthy snack or for breakfast. It takes no time to make. Don't tell that it is low fat and ask for feedback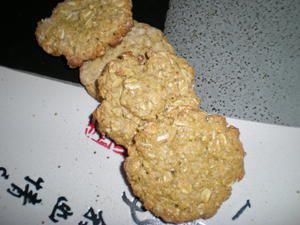 For 10-12 cookies you will need:
50 g of old fashioned oats
50 g of whole grain flour
40 g of sugar
1 egg
a pinch of salt


Preheat the oven to 430 F. Spray the baking pan with a cooking spray. In a bowl, toss all the ingredients together. Gather the dough into a ball. Form the cookies with your hands and bake for 10 minutes. Enjoy these crispy cookies.