When I made this quiche last night. I didn't believe I actually made because it was so delicious. The secret is using the real French Crème Fraiche that you can find at whole food.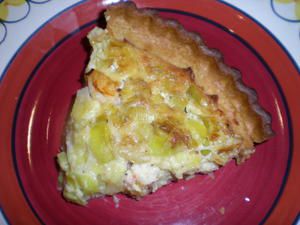 1 pie crust
25 medium shrimps (put as much as you want)
3 or 4 leeks (white and light green parts only) chopped
1 tbsp of olive oil
3 handful of grated cheese (I used parmesan cheese)
3 egg yolks
100 ml of crème fraiche
100 ml of milk
salt and pepper
If you can't find the crème fraiche especially in Quebec, use 200 ml of heavy crème instead of 100 ml of crème fraiche and 100 ml of milk.
Preheat the oven to 375 F. Bake the crust for 10 minuts
Season the shrimps with salt and pepper. Spray the non-stick grill pan with the cooking spray and grill the shrimps. If you don't have a grill pan, you can sauté the shrimps with 1 tbsp in a frypan. Let them cool a little bit and cut each shrimp in two pieces.
In another saucepan sauté the chopped leeks until there are tender.
In a bowl, mix the shrimps, leeks, the crème fraiche, milk, and cheese. Add pepper to and a pinch of salt to taste. Be careful don't a lot of salt because de grated cheese is already salty. Pour this mixture over the crust and bake for 30 minutes. Enjoy!!!