I found this recipe again in cooking light. I did it for the party in the Bikram yoga studio and it had a great success.
It is only 288 cal per wedge. Worth it !!!! I brought the pie crust from the store but I give you below the recipe of the light crust that goes with the recipe. Next time I'll do it!!!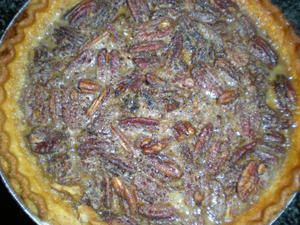 Pie Crust
1 cup of all purpose flour
2 tbsp of granulated sugar
1/2 tsp baking powder
1/4 tsp salt
1/4 cup fat free milk
1 tbsp butter, melted
Cooking spray

Filling
1 large egg
4 large egg whites
1 cup of light colored corn syrup ( for this syrup, you need to put 2 cups of brown sugar and
1 cup of water, stirring untill the sugar melt and let it cool)
2/3 cup brwon sugar
1/4 tsp salt
1 cup of pecan halves
1 tsp of vanilla extract

1. To prepare the crust, combine 1 cup of flour, sugar, baking powder and salt. Add milk and flour, toss with a fork.
2. Press mixture gently into a 4 inch circle on heavy duty plastic wrap. Cover the dough with additional plastic wrap.
Roll dough, still covered, into an 11 inch circle. Freeze 10 minutes or untill plastic wrap can be removed.
3. Remove the sheet of plastic wrap, fit the dough into a 9 inch pie plate coated with cooking spray. Remove remaining plastic wrap .
4. Preheat oven to 350 F.
5. To prepare filling, beat egg, egg whites, and the next 3 ingredients with a mixer at medium speed or untill well
blended. Stir in pecan halves and vanilla. Pour mixture into prepared crust. Bake at 350 F for 20 min then cover with
foil and cook for another 23 minutes.

pecan pie = 10 serving
1 serving = 288 cal.