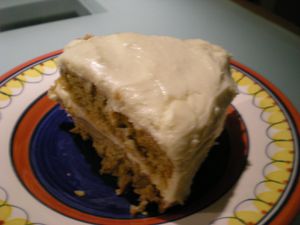 Carrot Cake
¾ cup unsalted butter
1 ½ cup sugar
3 eggs
2 tsp of vanilla extract
3 cups of flour
1 ½ tsp of baking powder
1 ½ tsp baking soda
½ tsp salt
½ tsp cinnamon
1 cup sour cream
1 cup shredded carrots
¾ cup of pineapple pureed
1 cup of nuts coarsely chopped (almonds, pecans…)
Cream Cheese Frosting
3 parquets of Cream cheese (8 oz each)
½ cup unsalted butter
1 tsp vanilla
3 ½ cup powdered sugar
Cake Preparation
With an electric mixer, beat the butter with the sugar until the mixture becomes light in color. Add the eggs, one by one and beat after each addition. Add the vanilla and beat again.
In another bowl, mix the flour, baking powder, baking soda, salt and cinnamon. Gradually incorporate ½ the dry ingredients and ½ cup of sour cream. Repeat the same operation another time.
Then add to the batter the carrots, pineapple and the nuts. Incorporate well.
Pour the batter in two round 9 inch baking pans. Bake at 375 F for 45 minutes.
When cooked, let them cool for 10 minutes.
Frosting Preparation
In a bowl, beat the cheese with the butter until well incorporated. Add the vanilla extract and incorporate gradually the powdered sugar until the mixture become soft.
Cake assembly
Put one of the cakes on a serving plate cover with frosting. Put the second cake on the top of the first and cover again with the frosting like in the picture. Enjoy!!