Cauliflower soup with Hazelnut
I have a new passion for local and fresh food. I started going to farmer's market downtown.
I found this little cute green cauliflower. Even though I'm not a huge fan of it I decided to try the recipe
I found in chocolate and zucchini blog; "cauliflower soup with hazelnut". It was absolutely delicious.
I modified the recipe for my own taste.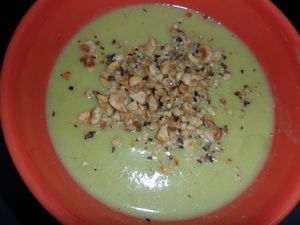 1 tablespoon olive oil
1 onion, chopped
2 teaspoons ground curcuma (I used ½ tsp curcuma)
1 teaspoon curry powder
1 medium head cauliflower, trimmed into florets
Good stock or water, ¼ cup of heavy cream
90 grams (3/4 cup) shelled hazelnuts, toasted and grounded
Salt, pepper
Heat the olive oil in a heavy-bottomed soup pot over medium heat. Add the onion and spices, and cook for two minutes, stirring every once in a while. Add the cauliflower, stir to coat, and cook for five minutes, until the pieces start to sweat and turn golden. Pour in stock to cover by 5 cm (2 inches), and bring to a simmer. Cover and cook for 13 minutes, until soft.
Purée the soup thoroughly using a bender. Pour the soup in the pan again add some heavy cream. Season to taste. When serving sprinkle the hazelnut on the top. Enjoy! You won't believe it is cauliflower.; it reheats beautifully the next day.