Chocolate Coconut Sherbet
I found this recipe in David's Lebovitz's book ready for desert. It satisfies your craving for a frozen desert without being packed with fats and calories. This recipe will make 1 quart (1L ).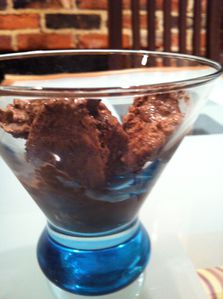 1 cup water
1 cup sugar (I put ½ cup)
5 ounces of dark chocolate (140 g)
2cup coconut milk
In a medium saucepan bring water and sugar to boil. Remove from heat and add the chocolate and whisk until the chocolate is melted. Stir in the coconut milk.
Poor it into the blender and mix until completely smooth (I skipped it this step).
Froze according to your Ice cream machine instructions (enjoy)!
I think that making ice-cream is a good way to impress your guests, end a perfect meal in the summer without too much efforts.