I have a new hobby, which is making cheese. I had a cup of homemade ricotta in the fridge and some eggplant and decided to make this recipe I found in " The French women don't get fat cookbook" from Mireille Guiliano. I'm a huge fan of Mireille. I have all her books. She represents for me the successful business women: She is the former CEO of Veuve Clicot and the author of several cookbooks and a business book. This clafoutis can be served for brunch or for dinner with a salad. Needless to say that it is absolutely DELICIOUS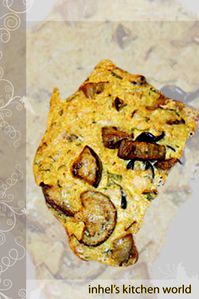 .
You will need:
2 tbsp olive oil
1 small eggplant, cut into ½ inch dice
1 yellow pepper, seeded and diced
Salt and pepper
1 slice of bread, crust removed
2 garlic gloves, peeled
1 cup ricotta
3 eggs
2 tbsp of fresh basil cut into strips
½ cup black olives, pitted
½ cup grated Parmesan
Butter, softened, for baking dish. (I baked mine on the pan)
Preheat the oven to 350 F.
Heat the oil over medium heat in a skillet and sauté the eggplant and yellow pepper until softened, about 6 minutes. Season to taste and set aside to cool.
In a food processor, combine the bread, garlic, ricotta, basil and eggs and blend until smooth. Season to taste. Pour the mixture into a bowl and add olives, parmesan, eggplant and yellow pepper.
Pour the mixture into a buttered 8 inch square pan and bake for 30 to 35 minutes. Serve warm or at room temperature.