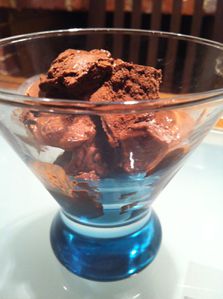 I love this chocolate gelato recipe; it has a strong taste of chocolate and no cream. I found this recipe in David Lebovitz's book (Ready for desert).
You will need:
5 ounces (140 g ) dark chocolate (70 %)
½ cup Dutch coco powder
2 cup whole milk
Pinch of salt
¾ cup sugar (140 g) (I used 1/3 cup and it was enough for me)
4 large egg yolks
Put the chocolate in a large bowl.
In a medium saucepan, whisk the cocoa, 1 cup (250 ml) milk and salt. Bring to full boil and then pour the mixture over the chocolate. Stir until chocolate is melted. Set a mesh strainer across the top of the bowl.
Warm the remaining 1 cup of milk with sugar.
In a second bowl, whisk egg yolks, then gradually add some of the milk sugar mixture.
Put back on heat and cook , stirring constantly at low heat until custard is thick or coat the spatula (all the bubbles disappear).
Pour the custard into the mesh strainer into the chocolate mixture. Mix well.
Refrigerate.
Freeze according the the manufacturer's instructions.