Elodie's Vacherin with raspberries
My friend Elodie shares my passion for food. She is the one that got me hooked to making cheese.
Once in a while I will go to her house which is also her painting studio. We will make cheese and
she will paint me during the waiting time for the cheese. It is very therapeutic because it completely
carries me away from my precise and science world.
Elodie has a very impressive resume; she has several master's, she works part time as a freelance
translator and a talented painter. To view samples of her painting, you can go to:
http://cargocollective.com/elodierabilloud. She is going to display her painting on the 3rd of December at
Bikram Yoga Hampden.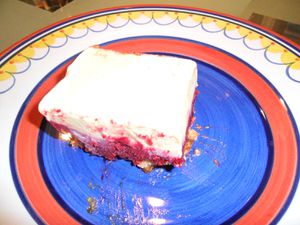 This frozen desert will have three layers: 1 layer of meringue (french cookie), 1 layer raspberry sorbet and
1 layer of vanilla cream.
Merigues recipe
2 egg whites
120 g sugar
Preheat the oven to 300 degrees F (130 degrees C). Butter and flour a square Pyrex baking dish or pan that can go into the oven and freezer
In a glass or metal bowl, whip egg whites until foamy using an electric mixer. Sprinkle in sugar a little at a time, while continuing to whip at medium speed. When the mixture becomes stiff and shiny like satin, stop mixing, and transfer the mixture to a large pastry bag. Pipe the meringue out onto the prepared baking pan using a large round tip or star tip.
(You can also directly transfer the merigue mixture to the baking dish without using the pastry bag).

Bake the Meringues for 50 min. Let cool.

raspberry sorbert

10 oz frozen raspberries defrozen
80 g sugar (1/3 cup)
In a food processor beat the raspberries with sugar until mixture is creamy. Set aside.
Vanilla cream

50 g sugar
50g powdered sugar(optional)
1 tsp vanilla extract
200 g heavy cream
4 eggs (yolks and whites separated)
In a bowl, Beat the sugar with the 4 egg yolks and vanilla extract.
In another bowl, beat the heavy cream until thick.
In another bowl, beat the egg white until peaks form.
Incorporate the yolk mixture, thick cream, and whites and the powdered sugar. Set aside.
Pour over the meringues the raspberry mixture than the cream mixture and freeze over night.
Serve and watch your guests being delighted by the heavenly nature of this dessert.