This is a delicious soup I discovered when I was invited in my friend's house. It's not only healthy but also delicious.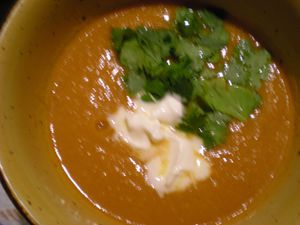 Ingredients
2 tablespoons unsalted butter
1/4 cup extra-virgin olive oil
1 1/2 pounds large carrots, peeled and thinly sliced
1 large onion, very thinly sliced
2 tablespoons finely grated fresh ginger
4 1/2 cups vegetable stock or chicken stock
1/4 teaspoon freshly grated nutmeg
Salt and freshly ground pepper
1/4 cup crème fraîche or sour cream
2 tablespoons coarsely chopped cilantro
Directions
In a medium soup pot, melt the butter in the olive oil. Add the sliced carrots, sliced onion and grated ginger, cover and cook over moderately high heat for about 8 minutes, stirring the vegetables occasionally, until just beginning to soften. Add the vegetable stock and nutmeg to the vegetables and season liberally with salt and pepper. Cover and cook the soup over moderate heat until the carrots and onions are very soft, about 10 minutes.
Puree the carrot soup in batches in a blender. Return the carrot soup to the soup pot. Stir in the crème fraîche and chopped cilantro and season the carrot soup with salt and pepper. Serve the soup in shallow bowls.