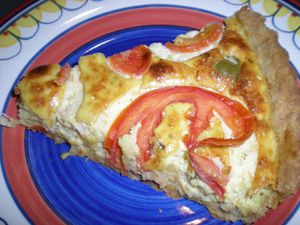 1 basic tart crust
1 can white tuna drained and flaked
2 tbsp Dijon mustard
1/4 cup green olives
1 tsp of herb of Provence
1 tomato diced into slices
1/2 cup creme fraiche or heavy cream
1/2 cup milk

1/4 cup of shredded cheese
3 eggs
2 tsp of olive oil

Salt, pepper
Preheat the oven to 375 F
In a bowl mix the tuna, cheese, eggs, milk, crème fraiche, mustard, herb of Provence. Season to taste.
Fit the crust into pie plate or tart pan. Pour the batter over the crust. Add the olive and decorate the tomato slices on the
top.

Bake for 35 minutes. Enjoy this light and savory quiche.