Julia child's cream of mushrooms
I'm a new fan of Julia Child. I recently brought her book after watching the movie Julie and Julia. This recipe is delicious and not because I love French food.
There is two steps for this soup: the volute soup base that you can use with other cream vergetable soups, and the cream of mushrooms soup.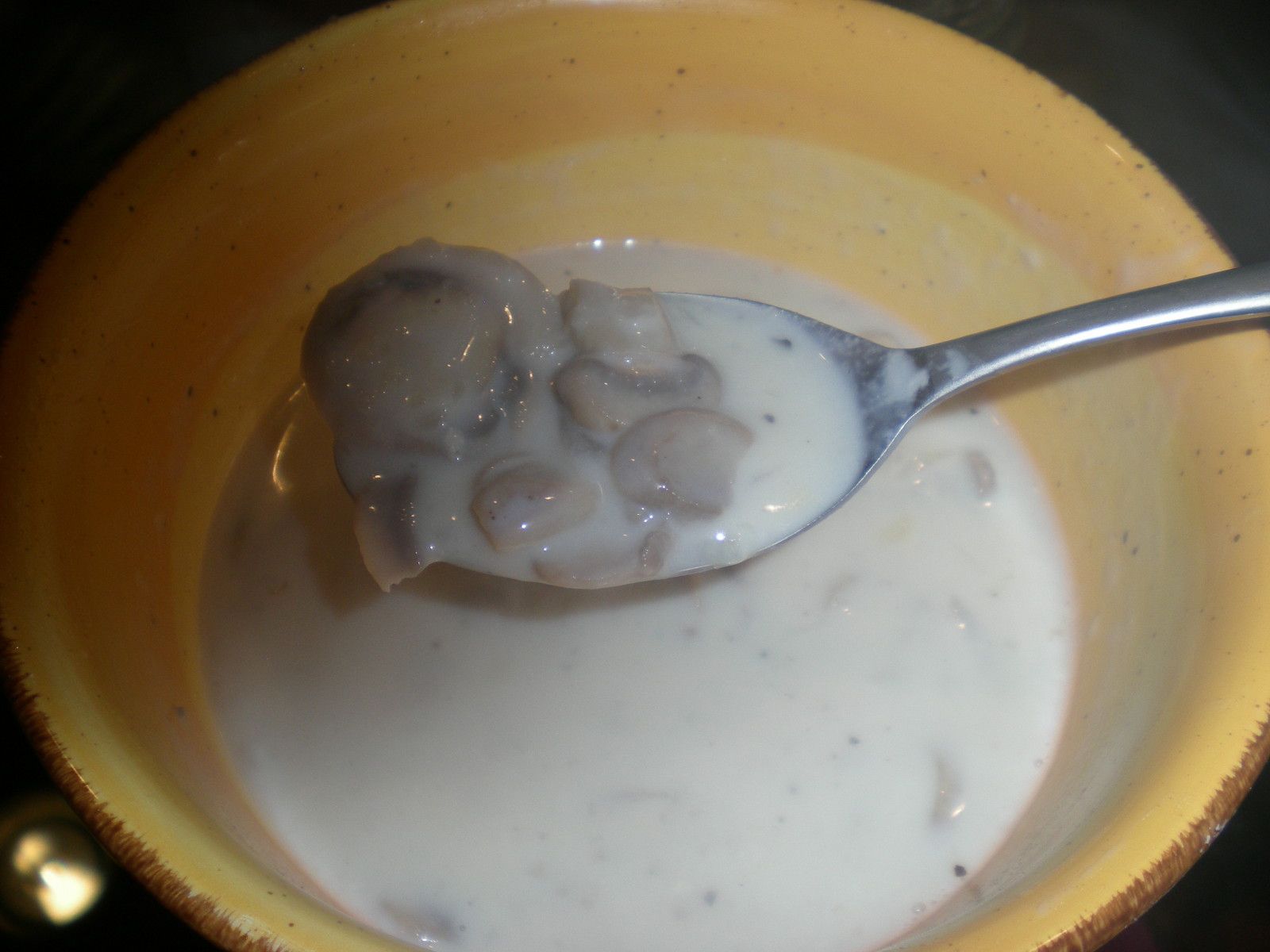 Velouté Soup Base
For about 2 quarts
4 tablespoons butter
3/4 cup to 1 1/2 cups minced onion and/or
white of leek – the amount depending on
your other ingredients
1/4 cup flour
7 to 8 cups liquid: chicken or fish stock and/or milk ( I used 2 cups of chicken broth and 5 cups of milk)

–of which at least 1 cup is hot
Salt and freshly ground white pepper
Special Equipment Suggested:
A heavy-bottomed 3-quart stainless saucepan
Set the saucepan over moderately low heat, add the butter, and, when melted, stir in the onions. Cover and cook slowly 7 to 8 minutes, or until
the onions are tender and translucent. Blend in the flour. Stir slowly for 3 minutes, to cook the flour without letting it color. Remove from heat, and in a few seconds, when bubbling stops, pour in 1 cup of hot liquid all at once, whisking vigorously to blend smooth-ly. Whisk in 6 more cups. Bring to the simmer, stirring frequently to be sure the soup is not scorching on the bottom of the pan. The soup base should be slightly thickened, enough to coat a spoon lightly… add dollops more liquid
if too thick. Correct seasoning, and continue as your recipe directs.
Ahead-of-time note for roux-based soups and sauces: Warm flour-based soups
and sauces will form a skin over their surface. The skin will not form if you stir
the soup frequently until it is cool. Or fill a large kitchen spoon with stock or
milk and lay the spoon just over the surface, tipping it to let the liquid float on
top. Or lay a sheet of plastic wrap on top of the surface, pressing it well.
Cream of Mushroom Soup
"Use this as a general model for all velouté soups, and since the base itself
is well flavored, the actual amount of other ingredients you add is not too
important. For instance, the following recipe calls for 1 quart of mush-
rooms, but just a handful will give the mushroom impression."
For about 2 1/4 quarts, serving 6
Ingredients for the preceding Velouté Soup Base,
made with 1 cup of hot chicken broth and
6 or more cups of milk
1 quart fresh mushrooms, trimmed,
washed, and diced
1/4 tsp terragan leaves ( I replaced with 1/2 tsp of Herbs of Provence)
1/2 cup or more sour cream,
heavy cream, or crème fraîche,
optional
Salt and freshly ground white pepper
Drops of fresh lemon juice, if needed
Suggested decoration:
Springs of fresh tarragon; or slivers of neatly sliced raw
mushroom caps tossed in drops of lemon juice; or a fluted
stewed mushroom cap for each serving
Special Equipment Suggested:
A food processor is useful for mincing the mushrooms
Finishing the soup and serving. Bring the soup base to the simmer, and fold in the mushrooms and tarragon; simmer 10 minutes, stirring frequently to prevent scorching. Stir in the optional cream, simmer a moment more,and carefully correct seasoning, adding drops of lemon juice if you think
they are needed. Decorate each serving, if you wish, as suggested.