This is delicious lobster bisque. It is super easy to make.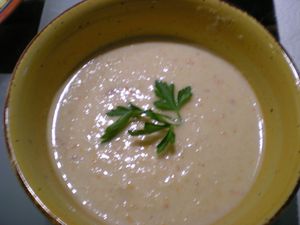 Ingredients:
6 tablespoons butter
6 tablespoons all-purpose flour
¾ teaspoon salt
1/8 teaspoon black pepper
1 teaspoon paprika
4 ½ cups milk
1 1/4 cups chicken stock
¼ cup white w
3 tablespoons minced onion
3 tablespoons shredded carrot
3 cups cooked lobster meat, shredded
Preparation:
In a large pan over medium-low heat, melt butter and then stir in flour, salt, pepper, and paprika. Slowly whisk in the milk, chicken stock, and white w, stirring until smooth and slightly thickened. Add onion, carrots, and lobster meat; simmer for 10 minutes. Serve hot.