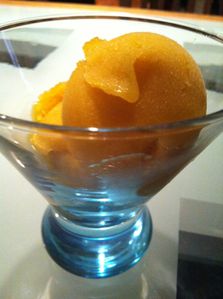 2 large ripe mangoes, pitted and peeled (see note) to yield about 800g (1 3/4 pounds) flesh
130g (2/3 cup) sugar( I reduced to 1/2 cup 100 g)
160ml (2/3 cup) water
The zest from an organic lime, finely grated
(I omit it)
The juice from half an organic lime, plus more to taste
A tablespoon dark rum, plus more to taste (optional)
A pinch of salt
Makes about 1 liter (1 quart)
Pre-freeze the bowl of your ice cream maker if it is the sort of ice cream maker that needs to have its bowl pre-frozen.
Combine all the ingredients in a blender and purée the mixture until completely smooth.
Place the mango purée in the refrigerator until well chilled, and stir again just before using. Taste, add a little more lime juice or rum if desired, then have your ice cream maker work its magic according to the manufacturer's instructions.
Adapted from The Perfect Scoop
, by David Lebovitz.