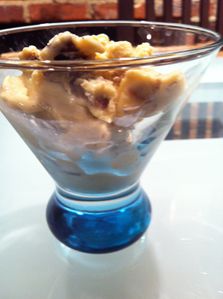 I found this recipe in Chocolate and Zucchini blog which was adapted from the perfect scoop.
- 240 ml (1 cup) whole milk
- 1 tablespoon raw cane sugar
- 100 grams (1/3 cup + 1 tablespoon) crème fraîche or heavy cream
- 3 egg yolks
- 80 ml (1/3 cup) maple syrup, the darker the better
- 1 good pinch sea salt
- 75 grams (3/4 cup) pecans, coarsely chopped and toasted
Makes about 1/2 liter (1/2 quart).
Heat the milk and sugar in a medium saucepan over medium heat.
While the milk heats up, put the cream in a medium mixing bowl with a pouring lip, and set a fine-mesh sieve over it.
Beat the egg yolks lightly in a second, heatproof medium bowl.
When the milk mixture is warm enough that you see steam rising from the surface, pour it very slowly into the yolks, whisking it in to prevent the yolks from cooking. Pour the whole thing back into the saucepan and cook for a few minutes, stirring constantly with a wooden spoon and scraping the sides and bottom well, until the mixture thickens and coats the back of the spoon (i.e. if you draw your finger across the back of the spoon, it should leave a neat path).
Pour this mixture through the prepared sieve -- this will remove any lumpy bit of egg from the custard -- and whisk it into the cream. Add the maple syrup and salt, and whisk them in.
Put a half-dozen ice cubes in a larger bowl, nest the mixing bowl containing the custard in it, and pour cold water carefully into the larger bowl. (This is called an ice bath, and it helps cool liquids down more quickly, which is recommended for such egg-based mixtures.) Whisk the custard in the ice bath until cool, cover, and refrigerate until chilled. This can be prepared up to 12 hours ahead. ( I didn't do this step, I simply put it in the fridge to cool)
Churn in an ice cream machine according to the manufacturer's instructions, adding the pecans when the ice cream is almost set.