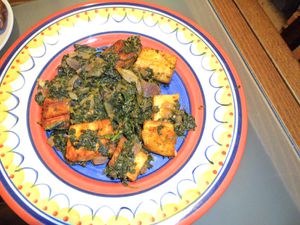 You will need:
2 tbsp Ghee (you can substitute with oil)
400 g Paneer cut into small squares
1 chopped onion
1 tbsp ground coriander
1 tbsp ground cumin
2 tsp cumin seeds
2 tsp paprika and 1 tsp of chili powder
1 lb frozen spinach defrosed
2 tbsp of chopped fresh ginger
3 garlic gloves finally diced
Salt, pepper
In a medium bowl, mix coriander, ground cumin, chili powder and paprika. Pour in paneer and mix well to coat it with spices. Keep the remaining spices.
In a non stick pan, heat 1 tbsp of ghee and sauté the paneer on both sides. Set aside.
In another pan or the same, heat 1 tbsp of ghee and sauté onion. Add cumin seeds, ginger and garlic.
Add the spinach and the remaining spices and cook well. Finally add the sautéed paneer.
Enjoy!!!