Parmesan focaccia
This is a delicious bread to make.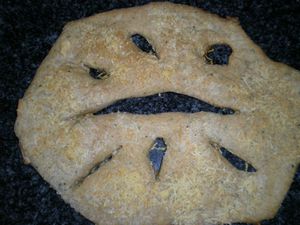 125 g all purpose flour
126 g whole wheat flour
50 g semolina
1 package active dry yeast
150 ml warm water
1/2 tsp salt
1 tsp dried oregano
1 tsp dried basil
2 tbsp room temperature butter
1/2 cup shredded Parmesan and some for sprinkling
Pour the yeast in the warm water. Add the sugar and let it activate for 10 minutes.
In the standing mixer, put the first 3 ingredients. Add the salt, cheese and herbs and butter.
Pour the yeast mixture over and beat at low speed for 4 minutes and beat again for 4 minutes.
Grease a bowl and put in the dough. Let it rise for 1 hour.
Then roll the dough unit 1 inch thick.
Bake at 425 F for 15 to 20 minutes.