souffleed mushrooms omlette
This recipe is inspired from my favorite cooking show "French Food at Home".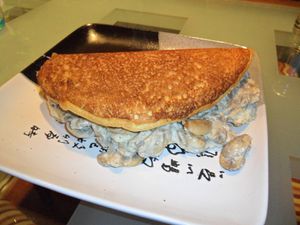 Ingredients
10 oz mushrooms, sliced

1 tablespoon

butter

3 tbsp boursin cheese
Kosher alt and freshly ground black pepper
Pinch

nutmeg

4 eggs, separated
Heat the butter in a frying pan, and saute the mushrooms. Add the boursin cheese, and season with salt, pepper, and nutmeg. When hot, turn off the heat, and set aside.
Beat yolks with a mixer until thick and frothy. Season the eggs with salt, and pepper.
In a separate bowl, beat the whites to stiff peaks, and fold into the yolk mixture.
Heat the remaining butter in a large frying pan for the omelette.
Cook's Note: a no-stick pan will simplify your life.
Pour the egg into the pan and cook until the bottom is set, and golden, and the top is still fluffy and soft, about 3 to 5 minutes. Scatter the mushrooms mixture. Cover the pan for a few minutes to soften the cheese. Uncover, and fold the omelette in half, and slide it onto a plate. Serve immediately.