South Indian Chicken leg curry
The Indian saga continues! This time, it is a delicious and quick chicken curry. It is very flavorful. I got this recipe from my collegues.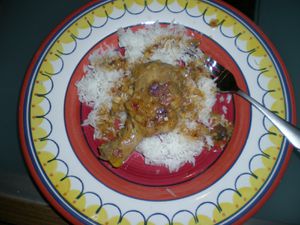 You will need:
6 chicken legs or thighs
¼ cup of yogurt
1 tbsp Chili powder
Ginger Garlic paste
Salt, pepper,
Lemon juice
Tsp graham marsala
1 tbsp of chili garlic paste
2 onions diced
5 whole gloves
1 piece of ginger
Marinade of chicken: Rub the chicken with the chili powder. Add some grated ginger, crashed garlic, marsala, salt, pepper, lemon juice and yogurt. Mix well.
Dice some garlic and ginger and sauté them in olive oil. Add the onion and sauté again. Add the marinated chicken and cook for 30 minutes. Add some water if needed to prevent the sticking. Serve with rice.