Turkey bacon terrine with Camembert and potatoes
Turkey bacon terrine with Camembert and potatoes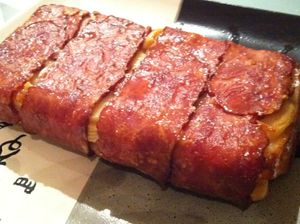 You will need:
2 camemberts
8 oz turkey bacon or other bacon you want
1 lb potatoes
Salt, pepper
1. Peel potatoes and slice them using a mandoline or a food processor
2. Layer a baking pan for cake with the turkey bacon slightly overlapping them.
3. Slice the camembert in 1/3 inch slices
4. Put one layer of potatoes, salt and pepper then cheese. Repeat on more time
5. Fold over the potatoes, the pieces of bacon.
6. Bake at 350 F for 2 h.
7. Let it rest for 24 hours in the fridge.
Filp over, Cut into pieces and heat it when serving