lamb tajine with green peas and artichoke
This a typical Tunisian dish. It is delicious and easy. You can eat with bread or rice.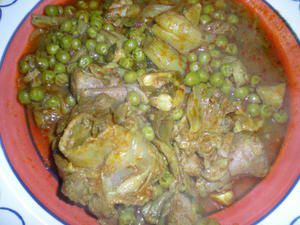 Ingredients for 4 persons:

600 g of lamb
1 onion
2 garlic cloves
1/2 tsp of turmeric
2 tsp of ground red pepper or pakrika
1 tsp of Harissa or red chili paste
2 tbsp of olive oil
1 tbsp of tomato paste
3 tbsp of chopped Persil
½ pound of frozen green peas
1 cup of frozen artichoke
salt and pepper

Preparation

In a medium saucepan sauté onion, meat and olive oil. Add garlic cloves diced and sauté again. Add water until the meat is covered. Add the spices and tomato paste. Cover and cook for 1h10 or until the meat is really tender. Add the frozen peas and artichoke cook for 20 minutes. Sprinkle the Persil on top and serve.