Crepes Suzettes with vanilla ice cream
These crepes are very famous in France. I decided to try the recipe of weight watchers. It is absolutely delicious.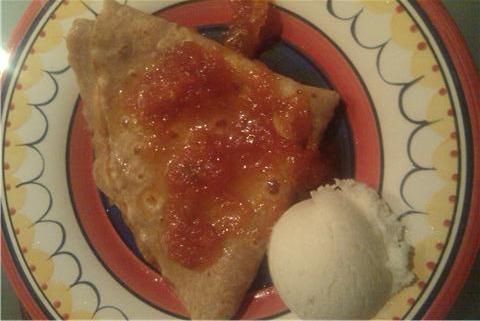 3 navel oranges
4 tbsp sugar
1/8 tsp salt
¾ c low fat milk
2 large eggs
2 tbsp Grand Marnier
3 tbsp butter
Grate the zest of one orange. Squeeze enough juice to equal 1/3 cup. Peel and cut remaining 2 oranges into sections and transfer to a small bowl.
Combine flour, 1 Tbsp sugar, and salt in a medium bowl. Combine milk, eggs, and orange zest, beating with whisk until blended. Slowly whisk mixture into flour mixture until smooth. Let stand 14 minutes.
Spray nonstick skillet with non nonstick spray and set over medium heat. Stir ¼ cup into skillet, tilting in all directions to form thin, even layer. Cook and flip and cook.
Transfer the crepes into a plate and set aside.
Mix orange juice, orange sections and their juices, and remaining 3 tbsp sugar. Cook over medium heat, stirring occasionally, until sugar dissolves. Dip each crepe into hot juice mixture. Fold crepe into quarters and transfer to plate. Add liqueur to the skillet and flambé. Remove skillet from heat and stir in the butter. Pour hot sauce over crepes.