This is my version of the classic risotto Milanese. It is very delicious and you can have as a side dish for fish chicken or meat. It is a classic Northern Italian dish. It is excellent with fish a la Provencal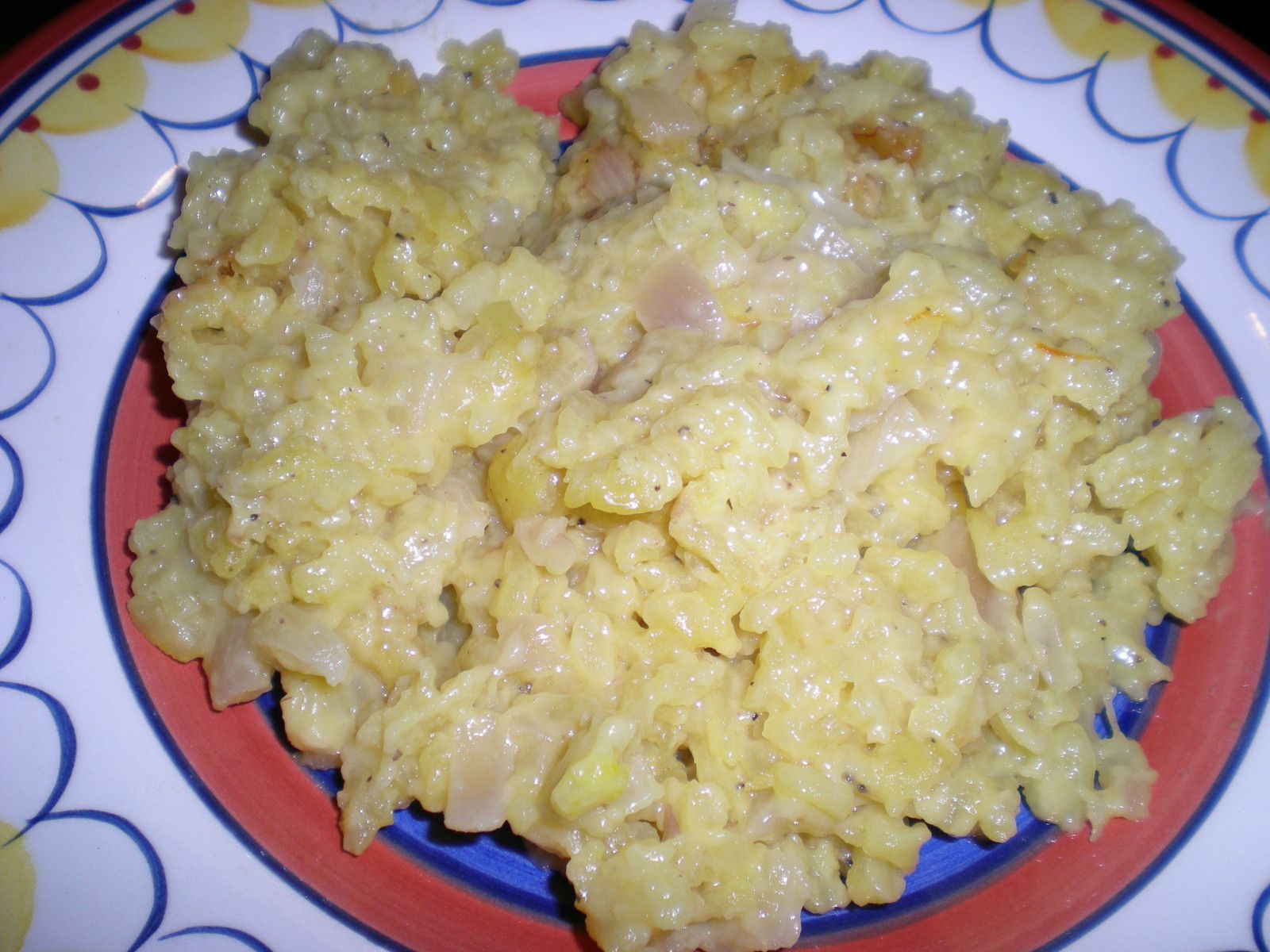 For 4 to 6 persons
You will need:
1 ½ cup Arborio rice
1 ½ tbsp olive oil
1 ½ tbsp butter
2 onions finely chopped
¼ tsp Saffron threads
1 cup dry white wine
4 to 5 cup chicken broth (preferably home made)
1/3 cup mascarpone cheese
3 handfuls parmesan cheese (you can use whatever cheese you have in hand)
salt, pepper
1. Combine saffron and wine in a small saucepan. Place over very low heat and bring to a gentle simmer, stirring occasionally, until most of the threads dissolve, about 5 minutes. Set aside.
2. In medium saucepan, bring the broth to boil and immediately lower the heat to minimum to keep it warm.
3. In another saucepan, heat the oil and the butter. Sauté in the onions, until soft, about 5 minutes. Add the rice and stir with a wood spoon over low heat until opaque and well coated with butter and oil. Add the saffron wine mixture to the rice and cook over low heat until the liquid is has been absorbed. Add 1 cup of the broth and cook over low heat until the liquid is has been absorbed. Continue adding 1 cup at a time, stirring constantly and watching until each addition has been absorbed before adding more. When rice has finished cooking, the risotto should have a very creamy constantly. If not and you ran out of broth, add some water. The cooking time is 30 or 35 minutes. Season to taste
4. Add the marscarpone cheese and Parmesan cheese.
ENJOYYYY